Prevention of Global Warming
Basic Concept
Unitika is focusing on reducing CO2 emissions, such as by being a leader among other companies in installing cogenerators in our production sites.
In April 2021, the Japanese government raised the domestic greenhouse gas emissions reduction target from 26% to 46% relative to the FY 2013 level. Following on from this, Unitika has also set our FY 2030 reduction target for CO2 emissions from domestic energy generation to 46% relative to the FY 2013 level. We are aiming for net zero carbon emissions by 2050.
Reduction of CO2 Emissions from Energy Generation
Unitika has been reducing CO2 emissions step-by-step over many months and years, based on our Medium-Term Environmental Plan. Thanks to our steady efforts, we have achieved substantial reductions in CO2 emissions from energy generation. We have an achievement rate of 91% for the Medium-Term Environmental Plan target to reduce CO2 emissions by 50% relative to FY 2005. Based on the current government target with FY 2013 as the standard year, our reduction rate is around 23%.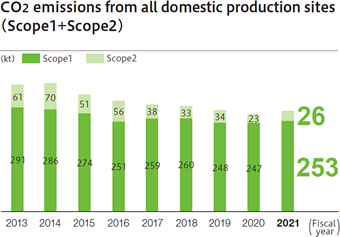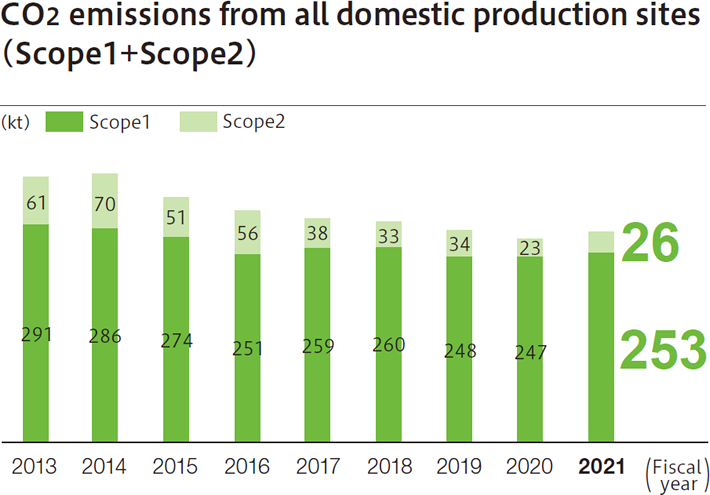 Reduction of CO2 Emissions Related to Logistics
Unitika undertakes a variety of efforts to reduce the environmental impact associated with the delivery and emission of raw materials, products, waste, and other materials. These include promoting the shift of cargo transportation modes to more environmentally-friendly methods (modal shifts), and streamlining transportation to improve efficiency. As a specified consignor, Unitika reported 61,000 tons of freight and 19,500 tons of CO2 emissions to the government in FY 2020. Unitika will strive for eco-friendly logistics within the whole group by implementing a variety of practices. These include but are not limited to: expanding the use of trains, promoting idle stops and the use of ecological tires, and decreasing the frequency of deliveries through the use of larger vehicles.