Unitika no Mori ( 'Unitika Wood' ) Project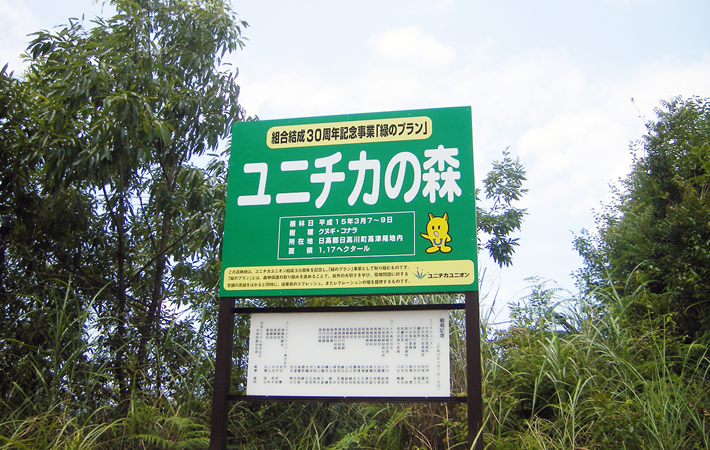 Unitika's labor union, Unitika Union, established a volunteer fund in 1992 to develop a variety of domestic and international support activities. As a project that commemorates its 30th anniversary in 2003, Unitika Union started the Midori no Plan ('Green Plan') with the purpose of social contribution and environmental protection in Japan. For the Midori no Plan, we planted Japanese chestnut oaks, konara oaks and Japanese cypresses in a 2-hectare area (approximately 2.5 acres) of mountain forest that has been named Unitika no Mori, located in Hidakagawa Town, Wakayama Prefecture. Several times a year, Unitika employees visit the site to maintain the forest by clearing underbrush and pruning branches.
These activities have been officially recognized by Wakayama Prefecture as "an effort that contributes to CO2 absorption through forestation." It is expected to result in about 800 metric tons of carbon dioxide absorption over the next 100 years.
Unitika no Mori was the first "corporate forest" in Wakayama, which was a pioneer nationwide in the establishment of such corporate forests. Unitika no Mori has received high praise for not only its woodland preservation activities but also its contributions to revitalizing the local region by such activities as continuous interaction with the local people. In 2018 it was awarded the Wakayama Prefecture Greening Achievement Award.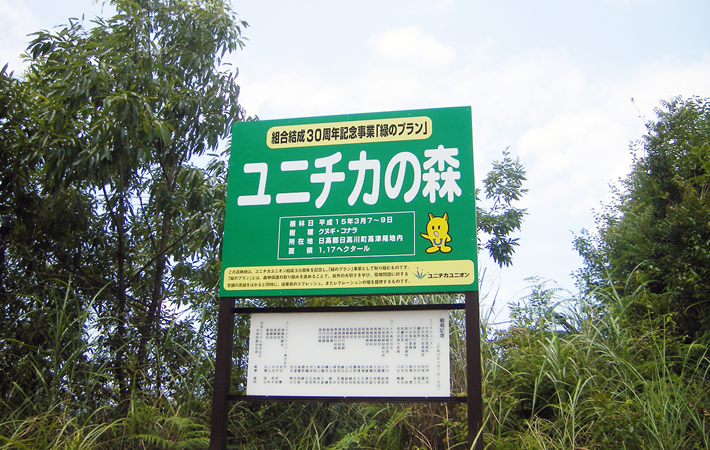 Regrettably, asa precaution to prevent the spread of COVID-19 infections, the Midori no Plan was not carried out in FY 2020. So far though, over 500 people have participated in this project, and we plan to continue it well into the future as a lasting activity.