RUN series
Technical Data
1. Good appearance
Polymer alloy resins allow control of crystallization and increase in adhesiveness to molds, and thus provide molded products excellent in appearance. In addition, the resins characteristically allow production of molded products excellent in appearance even at a relatively low mold temperature of 80°C. The resins have high flowability and a wide range of temperature suitable for molding, and thus are compatible with a variety of molding conditions.
Surface glossiness (incident angle of gloss meter: 60°)
| | | |
| --- | --- | --- |
| Mold temperature | RUN35-C25 | PA 6 containing 60% glass |
| 80°C | 80% | 13% |
| 100°C | 85% | 69% |
| 120°C | 85% | 78% |
Test piece: L90, W50, and T2 mm
2. Warping resistance
RUN series resins are smaller in the change of specific volume during molding, and thus provide, together with the synergistic effect of fillers, molded products smaller in the extent of warps. The resins also provide molded products smooth in appearance and fewer in the number of sink marks.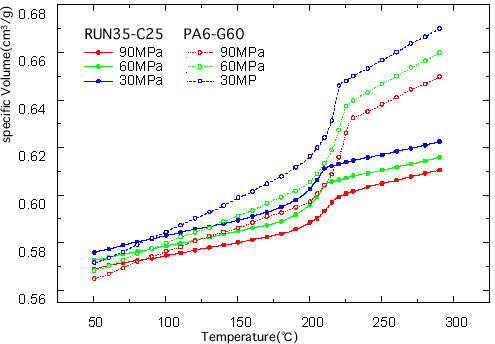 The RUN35-C25 resin has the highest-level warping resistance in the RUN series resins.
Warp amount of materials
| | | |
| --- | --- | --- |
| | RUN35-C25 | PA 6 containing 60% glass |
| Warp amount | 0.2mm | 2.5mm |
Determination of warp amount
Place a test piece on a horizontal plate and determine the positions of the following four points.
Base points a and b: Two points in contact with the horizontal plate.
Warp points c and d: Other two points warped
Calculation: Warp amount (mm) = (c+d)/2 - (a+b)/2

Test piece: 100φ circular disk with 1.6-mm thickness
Apparatus: 3D Analyzer AE100 manufactured by Mitsutoyo Seisakusho
3. Weather Resistance
Proper selection of the weather resisting agents most suitable for the RUN series resins allows retention of the appearance and physical properties of the molded products even during external exposure for an extended period of time. Accordingly, use of the resins allows elimination of paints, and thus reduction in total cost and environmental load.
Results of accelerated weather resistance test of RUN35-C25
| | | |
| --- | --- | --- |
| | Tensile strength (MPa) | Discoloration level (ΔE) |
| Blank | 171 | 0 |
| 500h | 164 | 1.7 |
| 1000h | 161 | 3.3 |
| 2000h | 156 | 4.1 |
Apparatus: Sunshine Weather Meter
WEL-SUN-HC manufactured by Suga Test equipment
Black panel temperature: 63°C
Rainfall cycle: 18 min/120-min irradiation

Determination of discoloration level
Apparatus: SZ-∑90 manufactured by Nippon Denshoku
Test condition: Reflected light of C light source
Test piece: 125x125 x 2.5 mm (Crepe TH-113)