UNIFINER
Approaching Applications
Applications example
UNIFINER has various processing methods to be superior in solvent solubility, and it can take the wide product form.
UNIFINER also has very superior heat-resistance, transparency, electric characteristic, mechanical properties, it is applicable to a wide use.
Printed circuits
Modification of FPC adhesive layer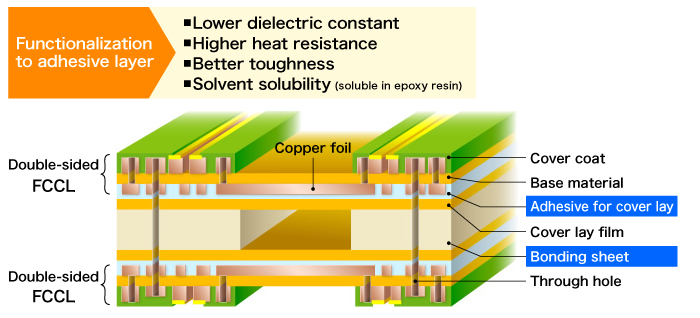 Optical film
Touchscreen application (OCA, Release film modifier)

Optical display substrates (Transparent conductive films)
for touch screen panels, LCD, OLED, etc.

An application example of capacitive touch screen panels
UNIFINER Approaching Applications
Demand characteristics
Categories
Applications
Heat
resistance
Transparency
Electrical
properties
Mechanical
properties
The others
Mounting,
Board
Interlayer insulator (CCL)
FPC base materials
Cover lay
Release film for build-up substrate
Release property
FPD
(OLED, LCD)
TFT Substrate/ITO Substrate
Retardation film
Prism sheet
TFT gate insulating layer
Touch panel
ITO substrate/OCA substrate
OCA modifiers
Binder resin for heat-resistant paint
Conductive paste resin
Energy,
Battery
and the like
Film capacitor
Heat-resistant material for LiB separator
The others
Hollow-fiber
Membrane forming
Intermediate transfer belt
Flex fatigue
Layer of structure of hologram
UV absorption
CFRTP/GFRTP prepreg
Modifiers for thermoset resin
Viscosity improvement
Loudspeaker diaphragm
Acoustic quality
Outer layer of heat-resistant roll
Heat-resistant base material
for tapes and labels