UNIFINER
Processing Characteristics of UNIFINER
1. Film
In view of the excellent solubility to solvents, the cast method is recommended when making UNIFINER into film.
Making UNIFINER into film by the melting extrusion method needs processing in a very high temperature range, because the glass transition temperature of UNIFINER is high. Therefore, pay special attention to the selection of a processing machine, as well as to the thermal decomposition and hydrolysis of resin.
2. Coating
UNIFINER can dissolve in solvents with a low boiling temperature. It has excellent processability and permits easy removal of solvents as a coating material, reducing generation of outgas from products.
The formed film has excellent toughness and resistance to hardness and abrasion.
Utilization of such properties permits surface reforming (improvement of heat resistance, hardness, and wear resistance) of plastic film (sheet).
In comparison with other kinds of transparent resin, UNIFINER has excellent adherence, and its use as a protective coating for metal is expected.
Relation of the polymer concentration and viscosity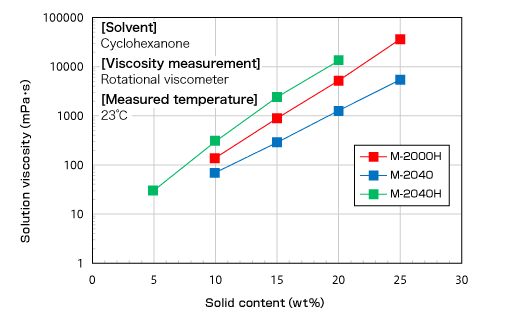 M-2000H
M-2040
M-2040H
Solid
content
(wt%)
Solution
viscosity
(mPa·s)
Solid
content
(wt%)
Solution
viscosity
(mPa·s)
Solid
content
(wt%)
Solution
viscosity
(mPa·s)
10
136
10
71
5
30
15
896
15
303
10
308
20
5420
20
1280
15
2453
25
38000
25
5700
20
13970