U-Imide® Varnish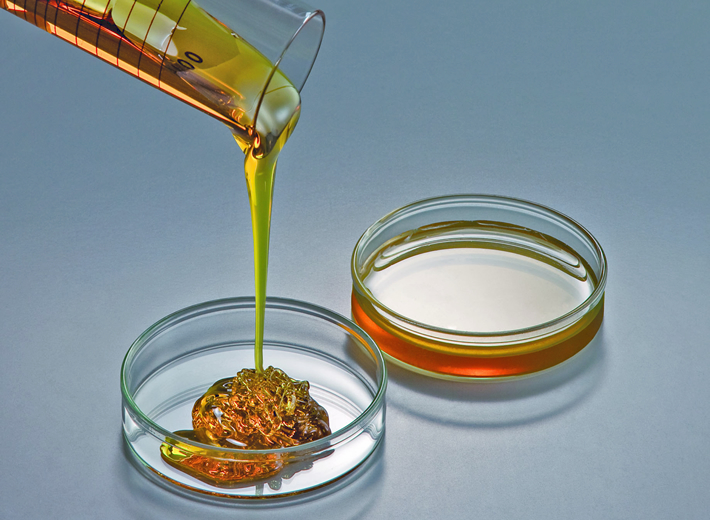 U-Imide Varnish is a polyimide precursor (polyamic acid) solution developed by Unitika.
Applying U-Imide Varnish to a substrate and heat-treating it causes an imidization reaction, forming a polyimide coating with the highest level of heat resistance among polymers. Thanks to its excellent coating properties (heat resistance, chemical resistance, electrical properties, and mechanical properties) and ease of application and molding, U-Imide Varnish is used in a broad range of heat-resistant applications.
Features
High mechanical properties
In addition to causing an imidization reaction, post-application heat treatment promotes polymerization, thus forming a polyimide coating with excellent mechanical properties.
From standard to custom products
In addition to standard products, we also produce custom products with coating properties (such as strength, elongation, and color tone) and varnish properties (such as viscosity, concentration, and solvent) to meet customer needs. We can also produce varnishes containing no amide solvents (e.g., NMP, DMAc) and filler-dispersed varnishes.
Typical applications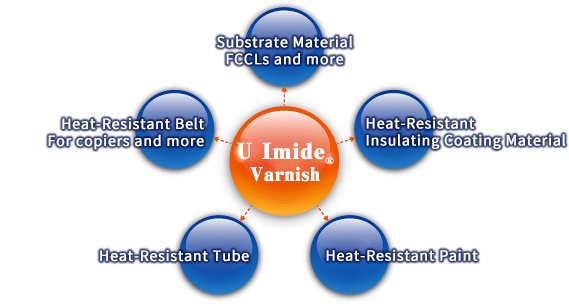 High Heat Resistance,
High Elastic Modulus,
High Strength
High Heat Resistance,
Low Elastic Modulus
High Elongation
Test Method
Brand
AR
AH
BH
C
CR
CH
Varnish properties
Viscosity
Pa·s
5
100
2
3
5
100
(30℃)
Concentration
wt%
18
18
26
36
18
18
ー
Solvent
NMP
NMP
DMAc
DMAc
NMP
NMP
ー
Coating properties
(reference values)
Tensile modulus
GPa
9.5
9.5
2.8
3.7
3.8
3.8
ASTM D882
Tensile strength
MPa
375
410
135
175
195
205
Tensile elongation
%
25
30
70
80
90
95
Glass-transition temperature
℃
>400
>400
>400
285
285
285
DSC method