Nano-Composite Nylon6
Characteristics and Basic properties
UNITIKA nanocomposite nylon "M1030DH" is a new-generation composite material superior in rigidity and heat resistance, which is made available by ultra dispersing specially-made layered silicate salt particles into a nylon resin to the nanometer size in the polymerization step using UNITIKA's proprietary method.
Comparison of the Morphology between Nonocomposite Nylon Resins and Conventional Reinforced-Grade Nylon Resins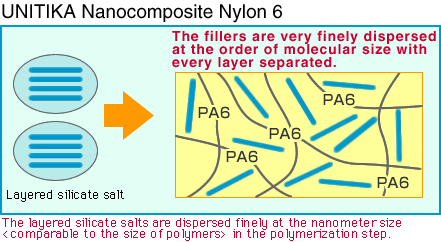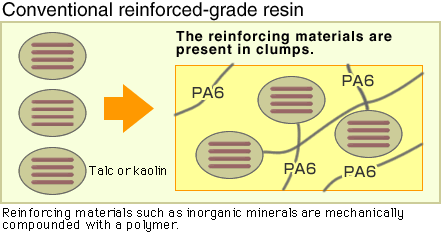 UNITIKA nonocomposite nylons, reflecting the unique structure above, have the following characteristics
1. Low density and high-rigidity
The nanocomposite nylon resins have about twice greater rigidity than the nonreinforced nylon 6 resins, although their densities are similar.
2. Low opacifying property, surface smoothness, and glossiness
Nanocomposite nylon resins are superior in appearance and surface smoothness, as they only contain small amount of minerals but no glass.
3. Water-absorbing property
The water-absorbing speed and thus the dimensional change of nanocomposite nylon resins are smaller than general nylon resins, as nanocomposite nylon resins have higher crystallinity.
4. Moldability
Nanocomposite nylon resins are excellent in flowability and mold replication and allow high-cycle molding, as the resins crystallize very rapidly.
Table 1. Basic Properties
Test method: ASTM
Type

Unit

Nanocomposite
Nylon 6

High-Cycle
Nylon 6

35% Mineral-Reinforced
Nylon 6

Grade

M1030DH

A1030JR

A3130

Density

1.15

1.14

1.42

TensileStrength

MPa

93(62)

81(59)

86(52)

Tensile Elongation

%

4(5)

100(200)

4(5)

Flexural strength

MPa

158(80)

108(62)

137(87)

Flexural modulus

GPa

4.5(2.2)

2.9(1.3)

6.1(3.4)

Izod Impact Strength

J/m

45(128)

49(294)

39(147)

DTUL(1.8MPa)

°C

152

70

172

DTUL(0.45MPa)

°C

193

175

208
( ) Value under an wet environment (23°C, 50% RH)