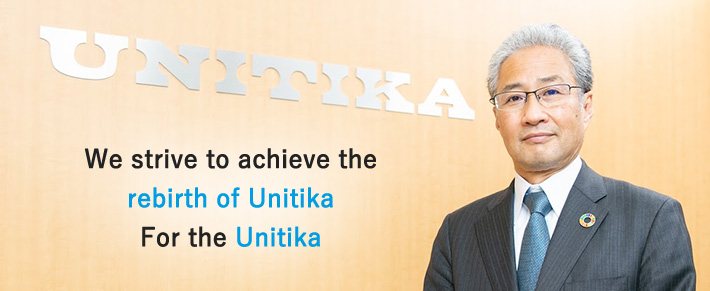 Our company was first established in 1889 as Amagasaki Boseki, and in 1969, after a corporate merger with Nichibo and Nippon Rayon, the company was restarted as Unitika, an integrated textile company. In the years that followed, we diversified our business through the application of our textile technology. Today, as a functional material manufacturer, we are pushing forward our Polymers, Advanced Materials, and Fibers & Textile businesses.
In "Vision 2020," our long-term corporate vision, we present the future outlook of Unitika Group. In order to establish a solid foundation for future growth, we are currently in the process of implementing our new medium-term management plan, focusing on the promotion of our growth strategy and global business expansion at the core. We are committed to driving this plan forward steadily, channeling our energy into "reinforcing group governance" under our new management structure. To achieve this, we try to reform our corporate culture getting back to the original spirits.
Finally, we will continue to stand in the forefront with the spirit of "For the UNITIKA," and with the unified spirit of all of our employees, we strive to grow continuously and to achieve the rebirth of Unitika.
Shuji Ueno President and CEO