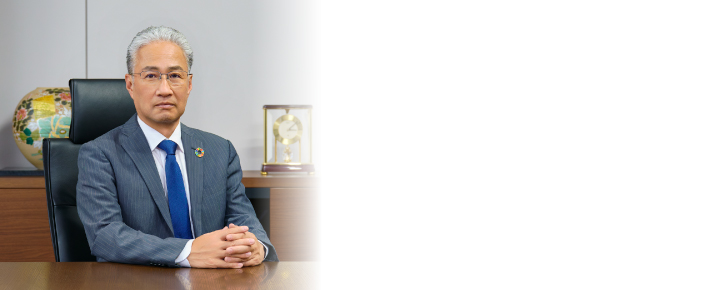 Strengthen our revenue base
centering on high value-added
products and environmentally
friendly materials
Shuji Ueno,
Representative Director and President, Chief Executive Officer
The surrounding business environment, and the Unitika Group's response
In FY 2020, the spread of COVID-19 infections slowed down the Japanese economy. Although some industries such as semiconductors and the automotive field started to recover in the second half of the fiscal year, other industries continued to struggle and overseas markets also remained in a slump. Our everyday lifestyle has also changed considerably during the COVID-19 pandemic. Even as we enter FY 2021, waves of COVID-19 infections continue to occur intermittently, and economic conditions remain sluggish both in Japan and overseas; subsequently, the business forecast going forward is still uncertain.
The business environment surrounding the Company has also been impacted by the COVID-19 pandemic and changes in people's lifestyles. A steep slump in demand continues in our core garment fiber business field, and a recovery in demand is delayed in construction-related materials and industrial materials as well. In such conditions, the Unitika Group has continued to stably supply to society the films and nonwoven fabric people need for daily life, and the functional materials required in various industrial fields. Subsequently, although there was a significant decline in FY 2020 net sales from the previous fiscal year, we were able to secure a certain level of profit. Additionally, to meet the pressing needs of strained medical and healthcare settings, the Unitika Group provided emergency supplies of medical gowns via the domestic network we have built in our nonwoven fabric and garment fiber businesses. I feel these activities have reaffirmed the Unitika Group as a corporate entity that is needed in society. In FY 2021 as well, the Unitika Group will continue to stably supply the materials and products society needs.
G-STEP30: Unitika's long-term vision from our philosophy
In May 2020, we announced G-STEP30, a long-term vision for the desired image of the Unitika Group by around 2030. The Unitika Group's philosophy is "contributing to society by connecting people's lives and technology," and we have kept this in mind as we have been carrying out our various corporate activities. In formulating this long-term vision, we started by confirming the current position of our businesses, and then envisioning how society will be by around 2030. In this process, we considered meeting people's needs as important for contributing to society; and in following our philosophy, we envisioned Unitika as providing the technologies and products to contribute to people's lives, centering on the technical fields that are the Unitika Group's strengths. As we approach 2030, we have set the desired direction of the Unitika Group as contributing to safe and secure living, convenient and comfortable living, and living in coexistence with the environment. We believe we can maximize the Unitika Group's business potential by contributing to these three fields in particular.
Furthermore, society is approaching 2030 by carrying out various activities within the framework of the Sustainable Development Goals (SDGs). As a member of international society, we cannot achieve sustainable growth without contributing to achieving the SDGs within our corporate activities as well. Recognizing this, we have set the Unitika Group's mission as meeting the needs of people through providing our products and technologies to society, and by contributing to solving social issues to ultimately help achieve the SDGs. As we strive to achieve the desired image of our long-term vision (G-STEP30), we will work tirelessly day and night to be a "company that is continuously chosen by customers" even by around 2030.
Medium-term management plan G-STEP30 1st, and its progress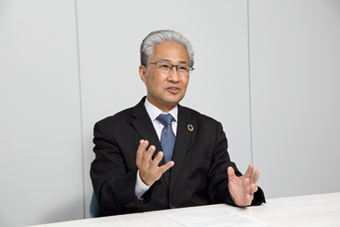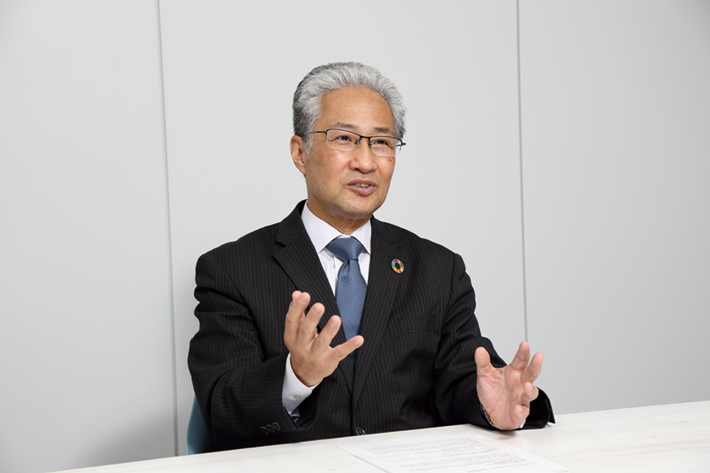 Similar to the long-term vision, we have announced the medium-term management plan G-STEP30 1st, which runs for three years up to FY 2022. A major goal of this medium-term management plan is to strengthen the Unitika Group's revenue base toward achieving the long-term vision.
Accordingly, as a basic policy and with the intention of building a robust business portfolio, we are accelerating the development of high value-added products to further strengthen the Unitika Group's business and technical capabilities. Another initiative as we head toward 2030 is sustainable products, namely focusing on further advancing the development of environmentally friendly materials.
As for the second basic policy of the promotion of global business development, we are continuing with the initiatives of the previous medium-term management plan. This includes currently adding new production equipment for nylon film in Indonesia, as a part of our continued efforts to build a global production system for our main products. Although the global-scale impact of COVID-19 is causing delays in our schedule, we are firmly following the plan to complete the addition of equipment.
The progress of the FY 2020 plan has been impacted by COVID-19, and so not all of the main policies are progressing according to plan. However, we are making steady progress in expanding sales of high value-added products in the film field, which is strongly expected to contribute to our revenue going forward. We have also grown sales of high value-added products for electronic materials in glass fiber as well. Additionally, we have been moving forward with proposals and marketing activities for nylon film, polyester film, and polyester functional fiber as even more environmentally friendly materials. These materials are made using Unitika's polymerization technologies and newly recycled chemicals.
Although the impact on business of COVID-19 is still largely lingering in FY 2021 as well, it is expected that as vaccinations increase, economic recovery will progress in Japan and overseas. Of course, economies and lifestyles will never return to what they were before the COVID-19 pandemic; we are likely moving toward the transformation of society into a new normal. Therefore, we believe these changes in the business environment will bring about new issues to address in order to strengthen the Unitika Group's revenue. However, even in these times of living with COVID-19 and the post-COVID-19 era, at present we do not think it is necessary to change the main policies outlined in the medium-term management plan including accelerating the development of high value-added products, and developing environmentally friendly materials; they will remain priority initiatives to strengthen the Unitika Group's revenue structure. In this fiscal year as well, we will focus our efforts even more to make progress in the main policies of the medium-term management plan.
Promote sustainability initiatives
As outlined in the long-term vision, we need to work together as a company and promote sustainability initiatives to contribute to achieving the SDGs. Accordingly, in July 2020 we set up the Sustainable Business Promotion Office in the Technology Development Division, and we have been reviewing the Unitika Group's initiatives for SDGs. Additionally, from December 2020 to July 2021 we implemented a project to clarify priority issues (materiality), and confirmed the direction of our initiatives and issues leading up to 2030. These priority issues reflect the actual state and future direction of the Unitika Group. We are aware of the Paris Agreement framework, such as the reduction of CO2 emissions, and we have been focusing on initiatives such as switching fuel from heavy oil to natural gas. The focus policies in the medium-term management plan and long-term vision also include these environmentally-friendly corporate activities, and other initiatives such as developing products and technologies that can help to reduce the environmental impact.
As a part of these initiatives to reduce the environmental impact, we have also been reviewing the Life Cycle Assessment (LCA) since FY 2020, and evaluating more accurately to what extent the Unitika Group's products contribute to the environment. Our FY 2030 reduction target for CO2 emissions is the same as the Japanese government's target of a 46% reduction relative to the FY 2013 level. We already achieved a 23% reduction in FY 2020, and we are continuing our efforts to achieve the 46% reduction target by promoting further energy-saving activities and introducing carbon neutral energy. The Unitika Group will keep further advancing our sustainability initiatives, as we aim to become a corporate entity that can achieve sustainable growth.
Strengthen governance
In FY 2019, there were inappropriate cases of certain products being manufactured and sold by the Unitika Group that had quality management issues. We have reflected on these cases, and as the third basic policy of the medium-term management plan, we intend to pursue reforming corporate culture and awareness. Accordingly, the Unitika Group is moving forward with establishing a quality assurance system and initiatives for the rebuilding of risk management.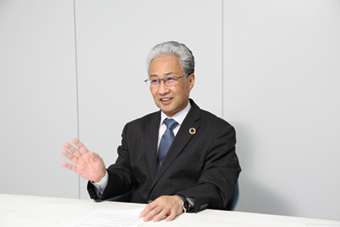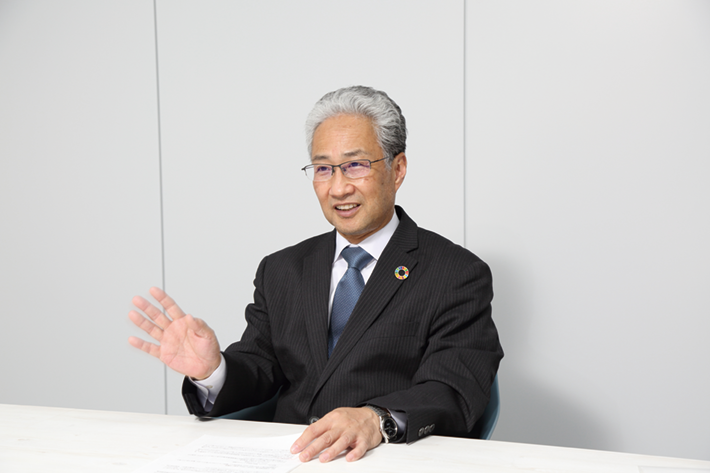 In FY 2020, we enhanced our quality assurance initiatives culminating with the Quality Assurance Committee, and we also implemented education on quality and quality audits within the Group. So as to ensure we will never again have inappropriate cases of quality assurance, this fiscal year we will also continue with quality assurance initiatives throughout the Unitika Group. Changing the awareness and actions of each individual is also essential to strengthen governance. Accordingly, we are working on further fostering the compliance awareness of employees through education using electronic resources (e-learning), based on the newly developed Unitika Group Code of Conduct. By continuing with such initiatives, we hope our employees will have a shared awareness and understanding of the importance of reforming corporate culture and awareness.
Our management system from July 2021 is changing to increase the diversity of the Board of Directors. We will add another internal director and outside director each, with the latter being a female executive officer. Under this new management system, we will continue with our initiatives to strengthen governance in this fiscal year as well.
To all stakeholders
Since I was appointed as the President in July 2019, my mission and conviction have been to recover the Unitika Group's earning capacity and make us a corporate entity that can achieve sustainable growth. In this tough business environment during the COVID-19 pandemic, our abilities (namely, our strengths and competitiveness as a company) as a corporate entity are being questioned even more. The main policies in the medium-term management plan are based on the Unitika Group's strengths and competitiveness, and I believe further deepening each initiative is necessary to stabilize our earning capacity. Also, as we approach a turbulent time of learning to live with COVID-19 and other challenges, we need to ask again what are the needs of society and in people's daily lives going forward? I believe it is also necessary to return to this starting point and reorganize our corporate activities.
In addition to initiatives for priority issues on sustainability, we will approach other issues from a fresh perspective and with a challenger spirit, as we pursue our philosophy of contributing to society and improve our corporate value in striving to be a company that is continuously chosen by customers. I hope to receive the continued understanding and support of all stakeholders for the activities of the Unitika Group.