Row Coverings
ELEVES for row coverings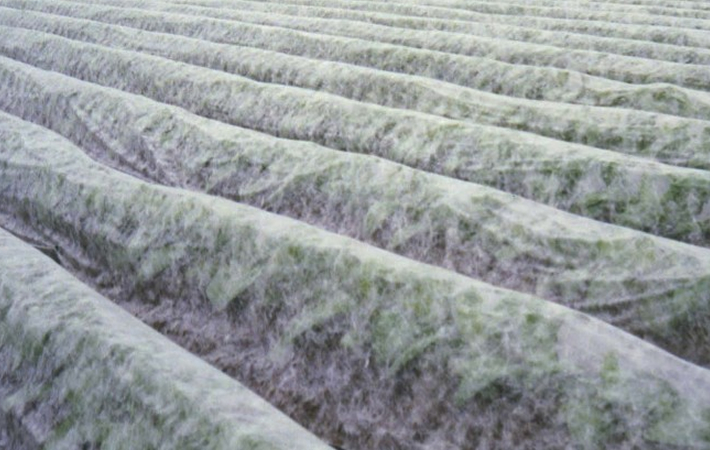 ELEVES for row coverings is the best suited to agricultural applications such as frost protection and quality improvement for crops (mainly vegetables).
While having air permeability, hydroscopic property, and appropriate thermal insulation property fabric is highly translucent. Therefore, smooth growth can be expected even when plants remain covered. The coverings ensure rapid germination of uniform size after sowing and promote rooting as well.
High air permeable ELEVES for row coverings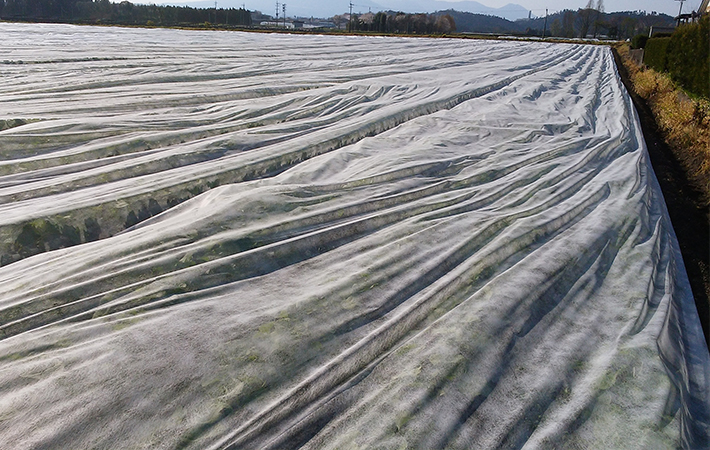 High air permeable ELEVES is a newly developed type with a unique porous structure. Due to the features, excessive heat can be released from the inside. Therefore, it protect crops from damages caused by unexpected high temperature during the day. Furthermore, such a characteristics is also helpful in decreasing the frequency of the fluttering by strong winds and protect crops from damages.
Features
Due to excellent air permeability, excessive internal rise in temperature could be controlled.
Light transmittance have increased more than the conventional lineup.
Advanced air permeability reduces frequency of the fluttering by strong winds and make the lifetime longer.
Reinforced ELEVES for row coverings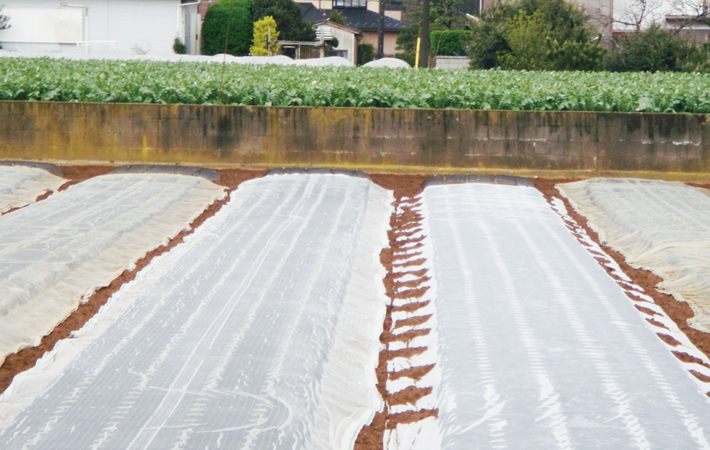 Reinforced ELEVES for row coverings is a row covering material produced by laminating polyethylene woven fabric to the existing ELEVES for agricultural usage. Its high tearing strength and tensile strength prevent the Spunbond nonwoven from being damaged by arched poles and fixing pins making it usable even in windy areas.
Common features
Superb frost protection capability promotes the growth of crops.
Good air and water permeability, and hygroscopic property
Since the Spunbond nonwovens pass sunlight enough, there is almost no need to worry about plant growth problems.
Light weight and extremely easy to handle.
Spunbond nonwoven has good strength with durability due to its uniformity of continuous filaments distribution.
Product specifications
Main application
Row Coverings
Product name
Item.No
ELEVES for
row coverings
S0153WGE
High air permeable ELEVESS
for row coverings
T0173WHE
Reinforced ELEVES
for row coverings
S0153SPR
Specification
Roll length
200m
200m
100m
Width 80cn
○
90cm
○
105cm
○
120cm
○
135cm
○
○
150cm
○
○
○
180cm
○
○
○
210cm
○
○
○
240cm
○
○
270cm
○
○
○
300cm
○
320cm
○
○
360cm
○
400cm
○
○
Standard
physical
properties
Thickness
0.13
0.14
0.10
Water permeability (%)
70
50
20
Shading rate (%)
10
10
30
* Measurement method
Thickness : JIS L-1096
Water permeability : Shall be tilted at 15 degrees
Shading rate: corresponding to Test Standard JIS L-1913
* Revision might be made without notice as additional information and experience are obtained.
The width marked ( ○ ) is special order product.