ELEVES as Capping Sheet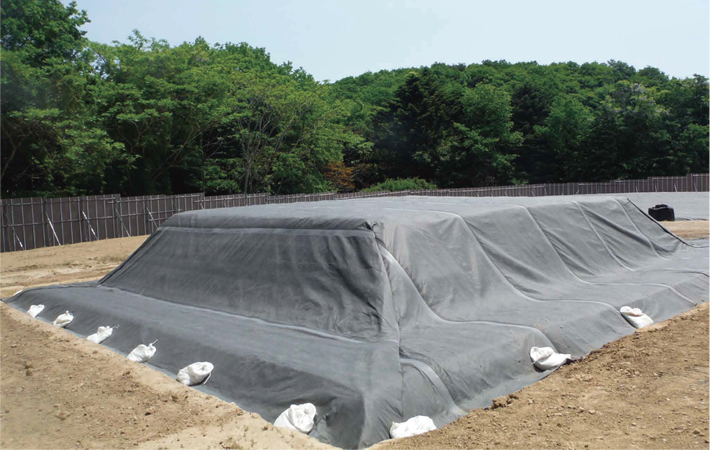 「ELEVES as capping sheet are three layer products; i.e. microporous films sandwiched between two ELEVES.
The use of ELEVES gives the sheet superb thermal adhesiveness, making it suitable for bonding by means of a self-propelled hot wind pressure welding machine. What's more, applying heat and pressure to edges prevents water seepage from bonded parts, which makes this product a high-quality Gas-Permeable/Waterproof Sheet. The ELEVES as capping sheets are used as covering sheets in temporary storage sites for decontamination waste materials in the disaster-damaged areas.

Standard properties
Mass
(g/m²)
Tensile
strength
(N/5cm)
Burst
Strength
Weather
resistance
(Burst
Strength)
Water
resistance
Humidity
permeability
(g/m².24h)
Shading
rate
Safety
level
*MD
*CD
N
N
mmH

2

O
kPa
Per 24 hours
%
Elution
property
Common specifications
for decontamination
and other types
of work of the Ministry
of the Environment
*400
or more
*925
or more
*925
or more
*500
or more
*500
or more
1000
or more
–
2500
or more
*95
or more
* Below the
standard value
ELEVES as
Capping Sheet
CP600
600
or more
1200
or more
925
or more
600
or more
600
or more
2000
or more
220
or more
3000
or more
95
or more
Below the
standard value
*Voluntary Standard value for protective mats specified by the Japan Water Seepage Control Engineer Association
*Voluntary Standard value for protective mats specified by the Japan Water Seepage Control Engineer Association
* MD(machine direction)/*CD(cross direction)
<Measurement method>
Mass/tensile strength: JIS L-1908
Burst Strength: ASTM D 4833
Weather resistance: JIS-A-1415; WS-type accelerated exposure test; Value of the Burst Strength test after 1000-hour exposure
Waterproofness: Low hydraulic method JIS L 1092 (mmH2O); High hydraulic method JIS L 1092 (kPa)
Humidity permeability: A-1 method JIS L 1099