Industrial Waste Final Disposal Site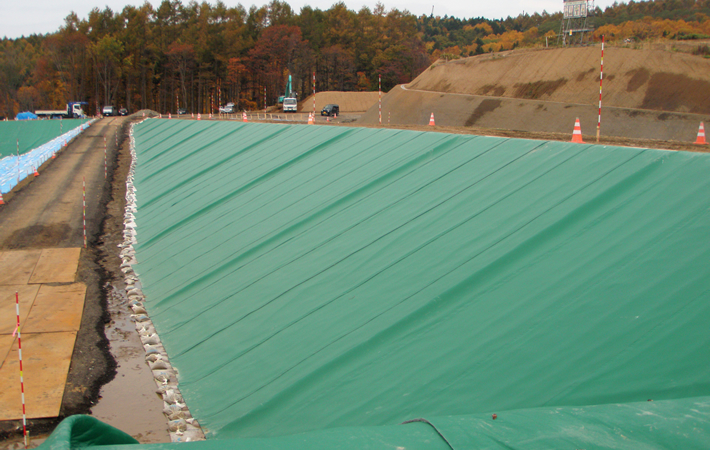 These are light-blocking protective mats we have developed for use in Industrial Waste Final Disposal Site by leveraging the features of Needle Punched MARIX. The mats are superior not only in strength and weather resistance but in elongation, cushioning property, and light-blocking performance as well. They are used as protective buffering materials that can protect against even deformed protrusions.
LN650 and L1500 are three-layer mats that use a polyethylene laminated layer on the top surface and ELEVES (polyethylene sheath and polyester core) on the rear surface, which can be bonded together using a self-propelled hot wind pressure welding machine. Their bonding performance is excellent.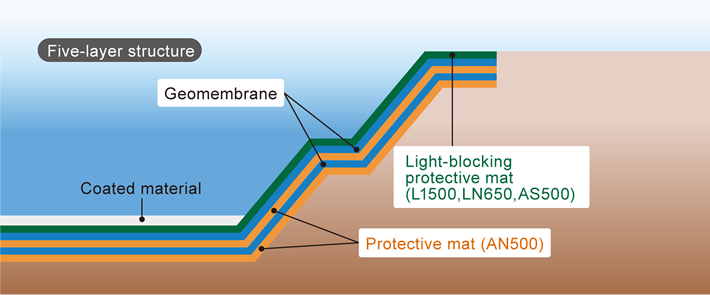 Standard properties
Item No.
Weight
(g/m²)
Tensile
strength
(N/cm)
Burst Strength
(N)
Weather
resistance
(N (*1))
Shading
rate
(%)
Safety level
LN650/PAL
650
300 or more
1000 or more
800 or more
100
Below the limits specified in environmental quality
standards for groundwater and water quality
L1500/PNL
1500
100 or more
1500 or more
1000 or more
100
AS500/GRE
500
300 or more
900 or more
750 or more
100
AN500/BKE
500
300 or more
900 or more
600 or more
99 or more
Measurement
method
JIS-L-1908
JIS-L-1908
ASTM D 4833
ASTM D 4833
JIS-L-1055
–
(1*) Burst Strength after the WS-type accelerated exposure test (JIS-A-1415, 1000 hr)
Specification
Item No.
Specification
Water
permeability
Flame
resistance
Self-propelled
hot wind
pressure
welding
machine
Structure
Color
Width
(m)
Roll
length
(m)
Top
surface
layer
Middle
layer
Rear
surface
layer
LN650/PAL
Green
2.1
50
Not supported
Supported
Usable
Polyethylene
PET Spunbond
nonwoven
ELEVES
L1500/PNL
Green
2.1
30
Not supported
Supported
Usable
Polyethylene
PET Staple
nonwoven
ELEVES
AS500/GRE
Green
2.05 or 4.1
50
Supported
Supported
Not usable
Acrylic resin
PET Spunbond
nonwoven
AN500/BKE
Black
2.1 or 4.2
50
Supported
Not supported
Not usable
PET Spunbond
nonwoven
Measurement
method
–
–
–
JIS-A-1218
45° air mix burner method
–
–
Gas-Permeable/Waterproof Sheet (ELEVES as Capping Sheet) (CP600)
When a final repository site is closed, the use of the capping method is required that can prevent rain water from permeating the waste and ensure safe waste confinement in order to reduce the risk of seepage water contaminating the environment as well as the cost of seepage water disposal. We have developed a new type of capping sheet jointly with the Society for Research on Geosynthetics Technology. This capping sheet features a seepage control function that prevents rain water permeation and a gas permeability property that lets residue gases generated from waste pass through to the atmosphere while at the same time satisfying the physical performance requirements that need to be met during construction and use.
Made of ELEVES (polyester/polyethylene core-sheath structure), the capping sheet has superb thermal adhesiveness and is suitable for bonding by means of a self-propelled hot wind pressure welding machine. In addition, applying heat and pressure to edges makes bonded parts water repellent.
Standard properties
Item No.
Mass
(g/m²)
Thickness
(mm)
Tensile strength
(N/5cm)
Elongation
(%)
Tearing strength
(N)
Burst Strength
(N)
Water resistance
(kPa)
Humidity
permeability
(g/m².24h)
*MD
*CD
*MD
*CD
*MD
*CD
CP600
600
4.5
1200
925
60
60
185
220
600
220
3000
* MD(machine direction)/*CD(cross direction)
<Measurement method>
Mass/thickness/tensile strength/elongation: JIS L-1908
Tearing strength: JIS L-1096
Burst Strength: ASTM D 4833
Water resistance: High hydraulic method JIS L 1092
Humidity permeability: A-1 method JIS L 1099