ELEVES for agricultural usage
Material for agricultural row coverings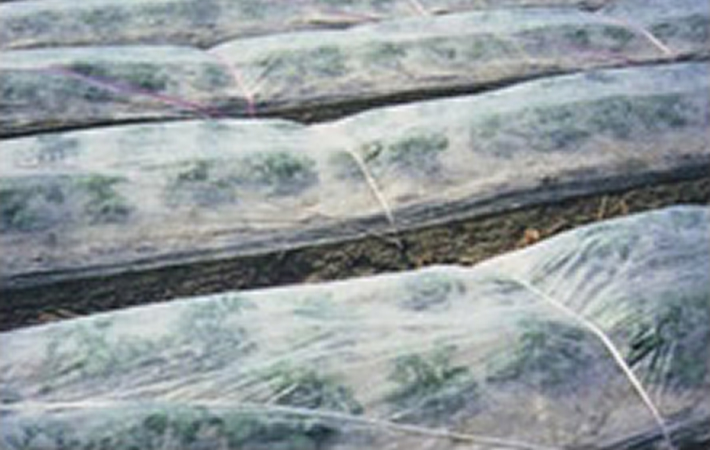 ELEVES for agricultural usage used for agricultural tunnels
Features
Superb frost protection capability helps plants to grow.
The material is excellent in uniformity and durability and is light and easy to handle.
The fabric has the properties needed to provide an appropriate environment for plant growth, such as proper air and water permeability, hygroscopic property, and translucency.
Reinforced by woven fabrics bonded together, this product has high tearing strength and tensile strength, which prevents the fabric from being damaged by poles and fasteners (Reinforced ELEVES for row coverings).
Row covering material temperature
| | No cover | ELEVES for agricultural usage |
| --- | --- | --- |
| Maximum temperature (°C) | 34.5 | 38.9 |
| Minimum temperature (°C) | -1.2 | 2.7 |
| Average temperature (°C) | 10.2 | 14.3 |
* Row covering material used for single-layer closed tunnels
* Data source: Diluvial fields of the Tsurugashima Branch of the Saitama Prefecture Agricultural Experiment Station
Crop growth status
Japanese mustard
spinach
Spinach
Chinese flat
cabbage
Edible
chrysanthemum
Green vegetable
Area covered by
ELEVES for agricultural usage
16.5
4.4
9.1
1.6
11.2
Area not covered
6.0
2.0
1.6
0.3
2.6
Growth status of crops sown October 22, as of December 10 [weight per root (unit : g)]
* Yamanashi Prefecture General Agricultural Experiment Station