Cotton Spunlace100% cotton spunlace nonwoven fabric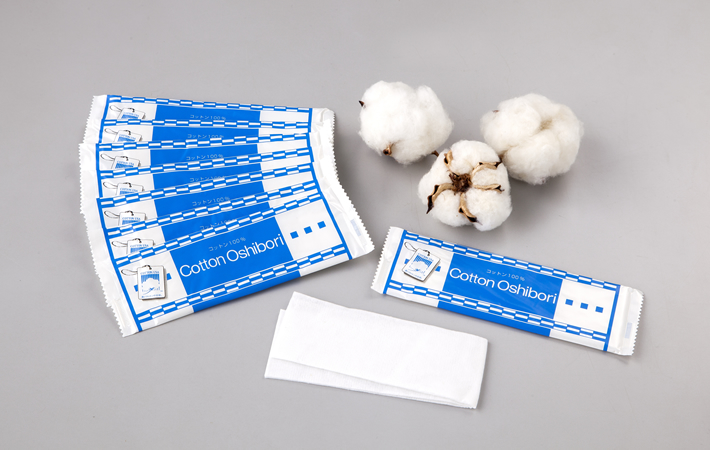 Cotton Spunlace used as disposable wet towels
Features
Kind to the skin and feels soft.
Excellent hygroscopic, water-absorbing, and water-retaining properties.
Suitable for wiping water and oil (wipe-dry capability).
Main applications
Daily commodities
Cosmetic products
Travelling products
Industrial materials
Medical materials
and more
Vallue-Added Cotton Spunlace
Various features can be added to the fabric
Features
Superior in water-repellent property, antibacterial property, flexibility, stretch property, etc.
Sheetlike objects (paper pieces, flexible nets, etc.) can be put between short fibers.
A drug can be added as well.
* Made-to-order product
Polyester and Cotton Spunlace
Spunlace nonwoven fabric made of cotton and synthetic fiber
Features
Sheets can be made harder (stronger) or softer.
Excellent durability and low-lint properties.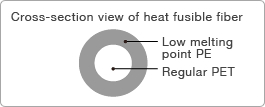 By blending Unitika's major heat fusible fiber, it is possible to produce much stronger sheets while maintaining the water-absorbing and moisture-retaining properties of cotton. Thanks to the feature of this binder fiber, thermoforming is easy and, depending on conditions, thermal fusion bonding may be possible as well.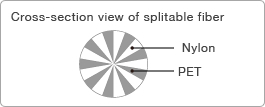 It is also possible to blend splitable fibers with cotton. One splitable fiber is split into 20 ultra-fine synthetic fibers, with fiber fineness each being only 0.14 dtx. When blended with cotton, the ultra-fine fibers of the fabric exhibit extremely high wiping performance while maintaining the water- and oil-absorbing properties of cotton.
Cellulose and Cotton Spunlace
Spunlace nonwoven fabric made from eucalyptus
Features
High washing durability.
The low-lint fabric is suitable for wiping.
Water-absorbing and water-retaining properties equivalent to those of Cotton Spunlace.