Basic Concept : For Life on Earth Tomorrow
From daily living, we can change the environment of tomorrow : The Unitika Group is thinking of ecology, with materials as the starting point. Materials that create products, including daily necessities and parts for industrial products, play a significant role in moving forward towards a more earth-friendly lifestyle. We wish to expand eco-friendly and human-friendly products even further. Unitika cares about and creates life on earth, for tomorrow.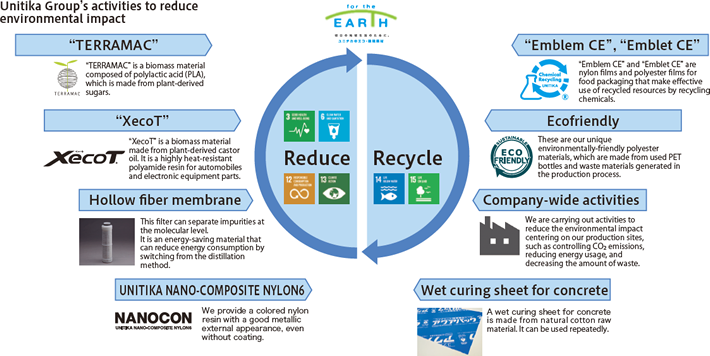 Recycled and Environmentally Friendly Materials
"Emblem CE" / "Emblet CE"
The packaging films "Emblem CE" and "Emblet CE" are made using recycled materials obtained from chemical recycling and materials recycling methods. These films have the same printability and mechanical properties as 100% petroleum-derived plastic films. Also, as we strictly manage the recycled materials used, these films are suitable for food packaging applications. Using the Life Cycle Assessment method, we calculated the greenhouse gas emissions volume associated with their production. A comparison (done by Unitika) with production not using recycled materials shows a reduction in greenhouse gases of around 40% for "Emblem CE" and about 30% for "Emblet CE"
Manufacturing flow of environmentally-friendly food packaging films, and chemical recycling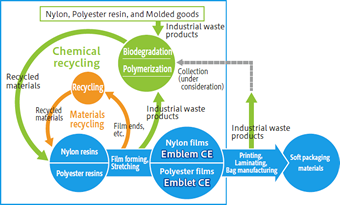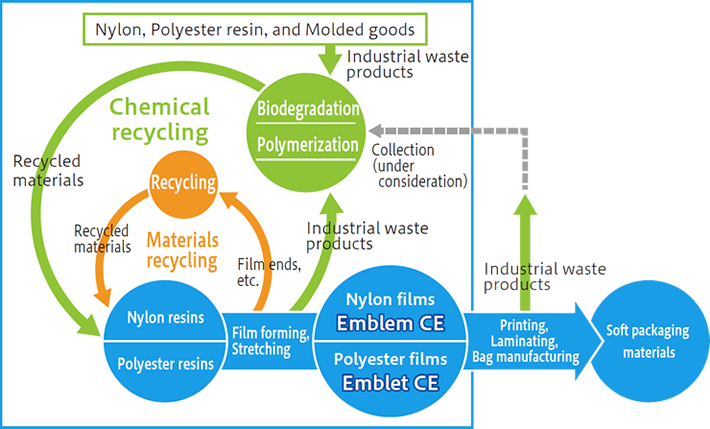 Biomass Materials
"TERRAMAC"
"TERRAMAC" is a biomass material made using polylactic acid (PLA), which is made from plant-derived sugars. It has a wide range of applications including in tea bags, etc. The raw material of "TERRAMAC" is PLA, which is a biodegradable plastic that decomposes into water and carbon dioxide in the natural environment.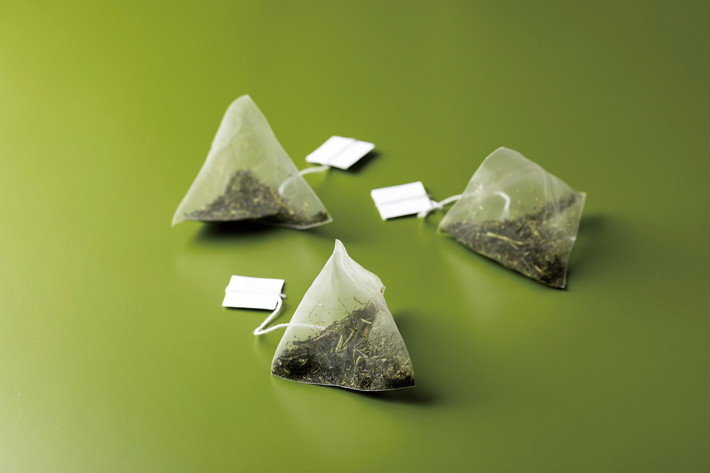 Tea bags made of "TERRAMAC"
"XecoT"
"XecoT" is made using castor oil extracted from the seeds of castoroil plants. It has the highest level of heat resistance among polyamide resins, and so it can also be used in the engine compartment of automobiles. "XecoT" has potential applications as a next-generation engineering resin. "XecoT" has a wide range of properties, including coming in various grades when combined with other resins using our original compounding technology.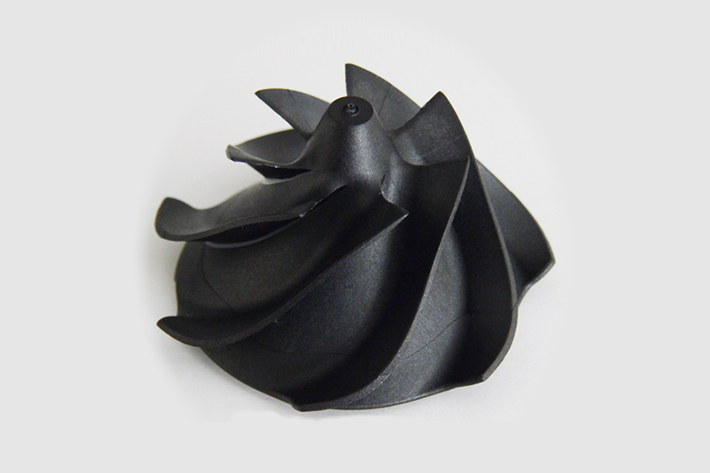 Impeller made using "XecoT"
Energy-Saving Materials
"Cubic Eye"
"Cubic Eye" is a three-dimensional cubic knitted textile composed of monofilament connecting fibers with a multifilament and spun yarn front-and-back cloth structure and moderate stiffness. It is used in items such as a futon (Japanese bedding). It is a cushiony and breathable material that is soft on the body, and has good air permeability. Futons made using "Cubic Eye" do not easily trap heat or moisture (humidity), so you can sleep comfortably even during summer.
Structure of "Cubic Eye"


"Thermotron RadiPoka"
"Thermotron RadiPoka" demonstrates a high level of heat retention performance through the synergy effects of energy from sunlight and far-infrared rays. By fusing light-absorbance and heat-conversion functional m aterial and far-infrare d ray radiation functional material into a single filament, "Thermotron RadiPoka" is able to absorb sunlight and convert it into heat, which it uses to actively heat up the far-infrared ray radiation functional material and subsequently further boost its radiation of far-infrared rays.